Becoming Silt I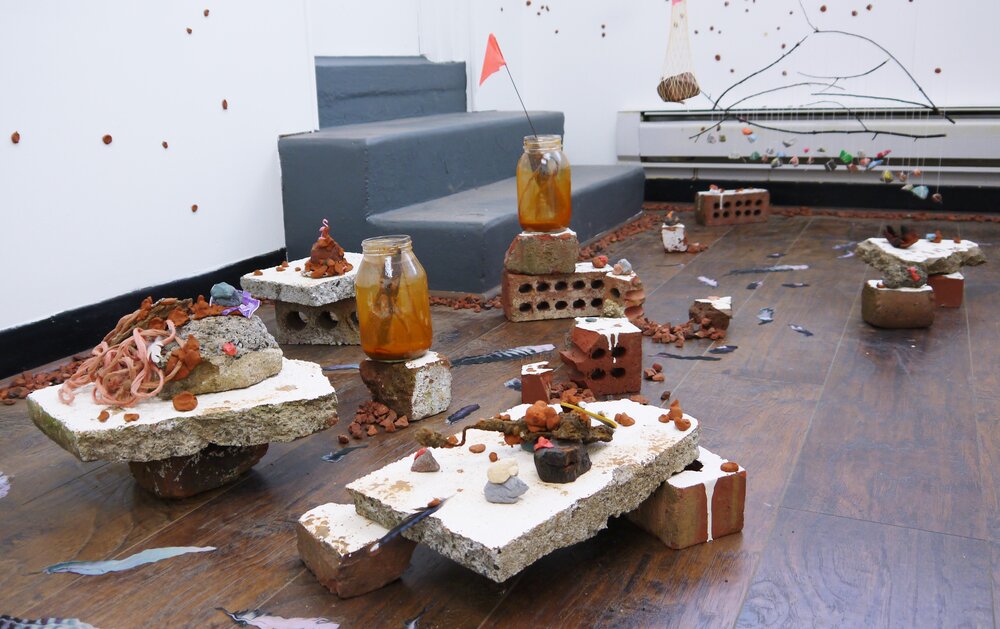 Becoming Silt I
2019
steel, rust-dyed cotton, water-soluble thread, Richmond-sourced clay, broken bricks, brick gravel, river water
Becoming Silt II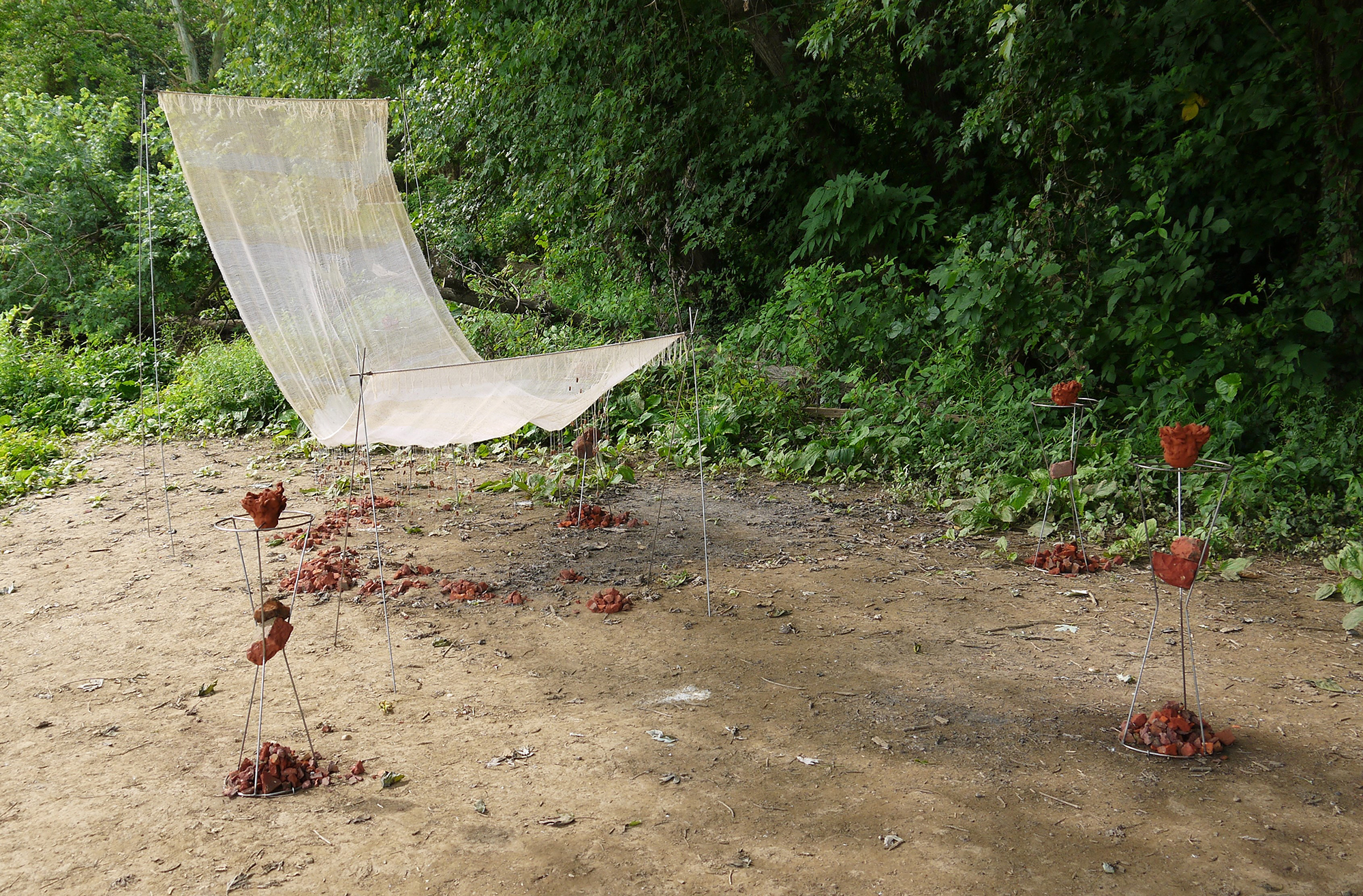 Becoming Silt II
2021
steel, rust-dyed cotton, water-soluble thread, Richmond-sourced clay, broken bricks, brick gravel, river water
Last summer, I spent every day swimming in the James River. During this time, I came to recognize myself as part of the river. I imagined my body as a water particle chipping away at land and redepositing the silt I carry. When I went walking, I could see my feet picking up the clay on the trails and breaking down the bricks of the city. I could see commuters car parts, train nails, and bike bolts leaving rust stains on the sidewalks then washing away the next day. I learned to move with the masses of people flowing through this city and with the river rushing by.
This work was installed in the James River Park System for one week in June of 2021. Each day the work changed; the weaving dissolved with rain, the steel structures oxidized, clay beads disintegrated, bricks slowly became sediment, and the river rushed by.
Becoming Silt II is propelled by the desire to grow a deeper relationship to the city of Richmond by becoming intimate with the material make-up of our surroundings. In continuing this exploration, I would like to acknowledge many Indigenous tribes that have held and continue to hold strong relationships with the Powhatan (the original Algonquin name for the James River). These tribes include the Chickahominy, Eastern Chickahominy, Monacan, Mattaponi, Upper Mattaponi, Pamunkey, Arrohatac, Weyanock, Appamatuck, Paspahegh, Quiyoughcohannock, Kiskiack, Warraskoyack, Kecoughtan, Nansemond, and others that have been erased due to ongoing colonialism.
This project would not have come into fruition without the generosity and support from Lily Cox-Richard, Kim Peters, Alex Norman, Lacey Leonard, Eric Goins, Jason Adkins, Matilde McCann, Joy McMillian, Addie Johnson, and Library of Radical Returns. A special thanks to the James River Park System, the Virginia Arts Commision, the Richmond City Council, Hack RVA, and Mass MoCA Assets for Artists Residency Program for supporting this project.